Ángel Raya and Antonella Consiglio awarded with the City of Barcelona Award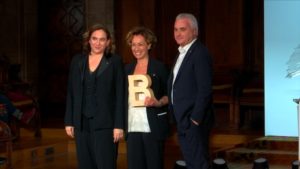 The two researchers from IDIBELL and P-CMR[C] have been awarded in this edition of the City of Barcelona Awards, in the Life Sciences category. Dr. Antonella Consiglio, principal investigator of the group of stem cells and neurodegenerative diseases of IDIBELL, ICREA academy researcher, and professor at the Faculty of Medicine and Health Sciences of the University of Barcelona (UB) and the Biomedicine Institute of the UB (IBUB), and Dr. Ángel Raya, coordinator of the IDIBELL Regenerative Medicine program, principal investigator of Stemm Cell Potency Group of P-CMR[C], ICREA researcher and member of CIBER-BBN, have been noted for their research work in neurodegenerative diseases. The City of Barcelona Awards recognizes the creation, research and production carried out in Barcelona for creators and/or institutions. The awards ceremony will take place on February 11 at 6:00 p.m. in the City Hall.
The Life Sciences award falls, in particular, in the research article 'Patient-specific IPSC-derived astrocytes Contribute to non-cell autonomous neurodegeneration in Parkinson s disease', led by Consiglio and Raya, for its quality and its significant progress in neurodegenerative diseases field. This work, with a high international impact, changes the paradigm by introducing the participation of glial cells in neuronal degeneration in Parkinson's disease and opening new pathways for therapeutic development.